I started my trip to Tat Days in Taccoa, Georgia on Saturday, August 30th from Omaha, Nebraska.  I had bought concert tickets (something I rarely do!) to see Journey but the concert was on Sunday and didn't want to wait two days to leave on my adventure…so I sold the tickets.
This trip actually appealed to multiple facets of my life that I enjoy:
To travel on my motorcycle which allows me to think and pray.  I spend the first half of the trip letting go of the details of my life at home.  Then I spend the trip on my way home, contemplating what I need to do (mentally and physically) to go forward appropriately in my life.
Taking secondary roads (not interstate highways) and seeing 'real' America
Camping via motorcycle–the challenge of being comfortable and finding unique places to stop
Eating in local restaurants–finding new/different foods.  I really enjoy eating breakfasts in small town cafes on/near main streets.
Talking to new people (I really am my father's daughter!).
Riding (that how motorcyclists travel) curvy/twisty roads
Going to Tat Days Tatting Conference.
Seeing old tatting friends from the past.
Meeting new tatting friends.
Getting re-energized in my love for tatting
Selling my tatting books.
Selling my leather and copper-enamelled tatting shuttles—seeing how well-received they were.
So I travelled on my motorcycle.  I had two luggage cases, one on each side, at the back.  On the seat I strapped down two water-resistant bags that held my camping gear.  One bag had my tent and a ground-cover to put under the tent.  The second bag held my bedding which includes a blow-up air mattress, a down-filled sleeping bag and a fleece sleeping bag.  This way, I am ready for either hot or cold sleeping conditions.  I should point out that I sleep VEEERRRY comfortably in my tent.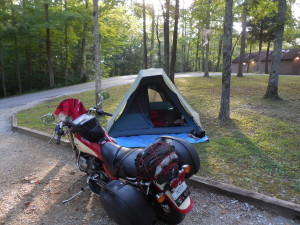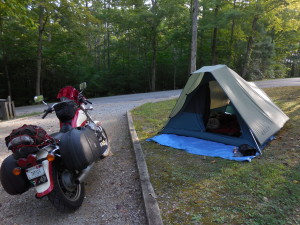 As I mentioned before, my MO is to ziz-zag my way to my destination, taking secondary (not interstate) roads.  Along the way I found and became a 'Country Store' Junkie!  I discovered some very quaint, old-time stores in the middle of nowhere–usually where 2 roads intersected.  Many of these stores sold gas, basic groceries, snacks, and sometime simple meals.  I didn't mind paying higher prices for gas for my motorcycle to use as an excuse to stop at them and explore.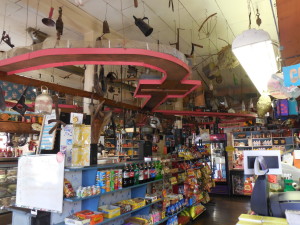 Just outside this same general store was a tobacco barn–a unique sight for a Nebraska Farm Girl.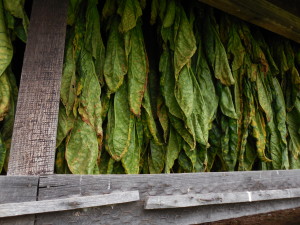 One of the highlights for me as a motorcyclist (especially being from Nebraska–land of straight roads!) was traveling in the mountains and riding on curvy/twisty roads.  I spent alot of time in Missouri, Tennessee, North Carolina, and northern Georgia enjoying the roads and exquisite scenery.  I went to the 'motorcyclist's mecca'–a road called "The Dragon's Tail".  It's a  very unique road that boasts having 318 curves in 11 miles.  What you do is stop at a certain vista point and get off and interact with other motorcyclist, then 'ride the dragon' to the other end at a place called Deal's Gap and get off and interact again with motorcyclists, looking a other's motorcycles, eating, and buying t-shirt souvenirs.  At Deal's Gap is the infamous 'Tree of Shame" where motorcyclists who crashed on The Dragon's Tail (happens alot!) hang broken parts of their motorcycles on it.
Next post will include Tat Days photos and memories.