Just outside of Taccoa, GA where Tat Days was held was Taccoa Falls, located on a college campus. I walked the short path (photo 1) to view the Falls, which were quite impressive.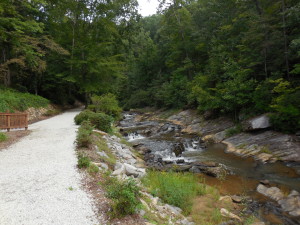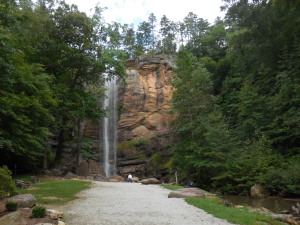 As I was leaving Taccoa Falls entrance, I passed Wanda Tripp and Randy Houtz entering and we waved at each other.  A short time later we remet at a marvelous little place called Tallulah Falls Gorge Overlook in Georgia.  There was a gift shop selling unique soft drinks in an old cooler that I just had to try–Cheerwine and Dr. Enuf.  This unique stop also featured boiled peanuts, a gorge overlook (on the lower level) and a BBQ restaurant on the upper level (also a gorge overlook).
As Wanda, Randy and I were chatting on the lower level gorge overlook, the kid (in this picture below) hung the sign he is holding down from the upper level overlook, advertising the restaurant.  We thought it was sooo funny and decided to reward this kid's ingenuity in marketing by patronizing the restaurant.  We were NOT disappointed.  As we entered he gave us samples of muscatine (grapes?) that he had just picked alongside the roadside.  They were good and quite a treat.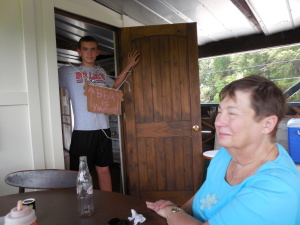 We had "BBQ Sundae's"—Pulled pork at the bottom, a layer of purple beans, and then coleslaw.   It was delicious!!!!  Pictured in the food picture is the unique softdrinks ('Pop' in my lingo) that we drank.  I've never seen these sold anywhere else.
The chef (seen talking to Randy Houtz in the picture below) said that the BBQ Sundae was how his Cherokee-heritage family ate BBQ.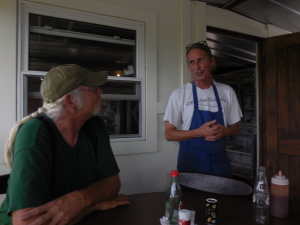 The view from the restaurant was just georgeous.  There was a 'big ditch' behind us that was impossible to photograph to do the depth of the gorge justice.  The three of us must have spent at least 2 hours talking, enjoying the conversation (tatting of course), the view, and the weather (which was perfect).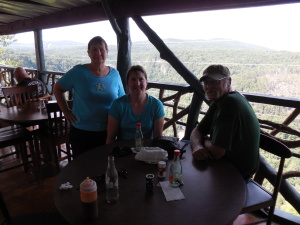 The only other pictures that I have of my trip home was of my stop in Hannibal, Missouri.  This is the Mississippi River town made famous by Mark Twain.  Downtown Hannibal was a fun stop.  I only went into two shops but both were very unique.