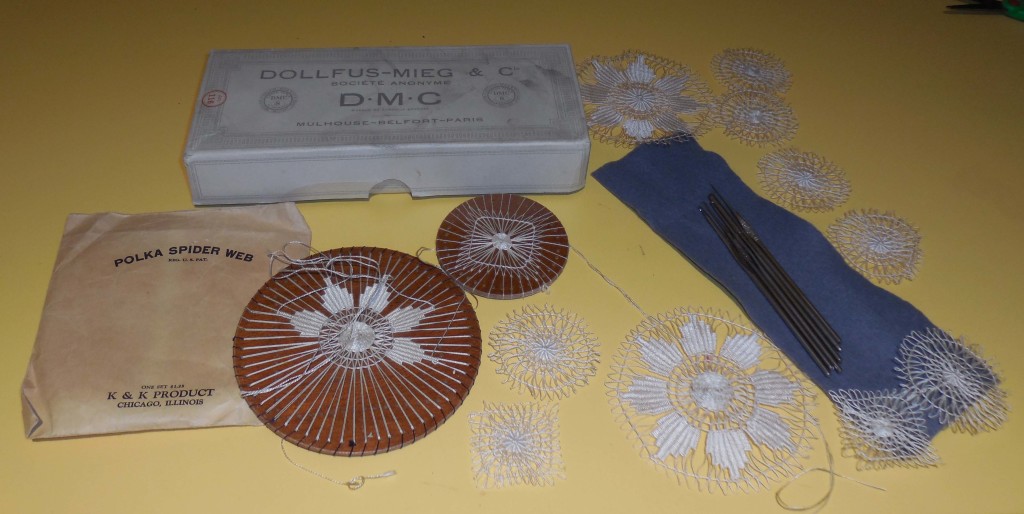 This is my latest 'impulse buy' from Ebay.  I also study, make, and teach Teneriffe/Sol/Nanduti Lace.  This kit was sold under the name of Polka Spider Web Lace but it creates Teneriffe/Sol Lace.  I have two books by the same title and this was the kit to create the lace.
In Teneriffe Lace, individual motifs are created and then sewn together to make a bigger piece.
The brown, round things are the 'forms' upon which the lace was made.  How the forms were 'laced up'  allowed you to either make round (the big circle) or square motifs (seen on the little form).  The cool part about having the books and now the forms is that there are patterns to follow to create pieces easily–no math involved.
The other interesting thing about owning these forms is that they came with Teneriffe Lace piece completed and motifs in progress.  I learned that two motifs can be completed at the same time…one on the front of the form and one on the back at the same time.  When both pieces are completed (stitched) the lacing threads are cut, allowing the lace motif to disingage from the form and be a free-standing piece of lace.  The lacing threads are the darker threads seen on the edges of the big, round form.  The small form uses white lacing threads to form the base for the square motif.