The ShuttleSmith Leather Shuttles are created in 2 different design types:
Colored leather bonded to a plain leather back.
Thicker plain leather embellished with an embedded design
Right now only the first category of leather shuttles are available.
The ShuttleSmith Leather Shuttles are flat, Hoare-style shuttle types.
The feature smooth backside edges (plain leather side).
Thread is snapped/passed through the slit cut on each side (sometimes barely visible in a photograph) of the two center holes that collect the thread.
Right now all Leather Shuttles are $12 regardless of size–Free Shipping to US addresses
All Payments processed through PayPal.
---
Black Leather bonded to a plain leather backing

Medium-sized–1 1/8 t0 1 3/8 wide by 2 7/8 inch long
4 available (originally)
Price: $12.00 each–Free Shipping to US addresses
---
Black Smooth Leather bonded to a plain leather backing
Smaller-sized: 1 1/8 inch wide by 2 1/2 inch long–Same appearance as above photo
1 available
Price: $12.00–Free Shipping to US addresses
---
Orange Grain Leather bonded to a plain leather backing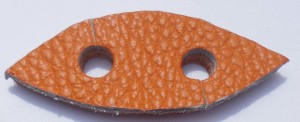 1 inch wide by 2 5/8 inch long
1 available
Price: $12.00–Free Shipping to US addresses
---
Red Smooth Leather bonded to a plain leather backing
Smaller-sized: 1 1/8 inch wide by 2 5/8 inch long
2 available originally
Price: $12.00–Free Shipping to US addresses
---
Red Grain Leather bonded to a plain leather backing
Smaller-sized: 1 to 1 1/4 inch wide by 2 3/8 inch long
1available
Price: $12.00–Free Shipping to US addresses