This weekend, on my list of things 'to do', was the task of creating my 2014 business accounting ledger for income tax filing purposes.  My MO is to put all receipts into a folder and then in the new year, try to make sense of the receipts and create an appropriate business account.  Somehow along the way, I decided to put the '2014 reciept folder' in a SAFE place (ie. hidden somewhere stupid) and that was why I spent a large amount of time looking for the folder on Sunday.   Along the way I found a very messy drawer of my tatting/lacemaking treasures and started to clean an in the process I found these items in the picture.  They constitute my collection of handmade and purchased picot gauges.  In addition there are two homemade (by me) thread winders.  I don't remember what the 'C-shaped' apparatus is for, even though I made it!!!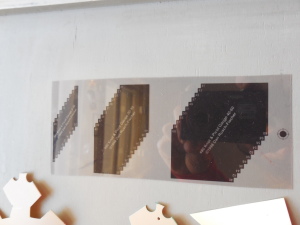 This item is a set of 3 picot gauges created and sold by Daniel Rusch Fisher (quite a long time ago).  They consist of a sheet of clear, fairly thin plastic with the gauges printed on the plastic in various sizes.  To use them, one would have to carefully cut out each piece along each picot size step.
The reason they were in my drawer all these years is that I do NOT use picot gauges.  For some strange reason at some point I decided to buy and make these 'just for grins'.