Fun with Split Ring Tatting
published March 2012 by Karen Bovard, The ShuttleSmith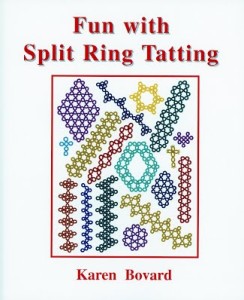 This is THE book on Split Ring Tatting that the tatting world has been waiting for!!!
This book will teach you not only how to work Split Ring Tatting, but it will give you an understanding of the uniqueness of the technique, how to manipulate it, and various ways to work it.  Learn how to create Take Off Rings and utilize joins to create unique, contemporary designs never before offered.  There are no chains in this book…..only rings!If you like how geometric and patterned tatting is, you will enjoy the patterns in this book. This book could be alternatively titled: Fun with Geometrics.There are 55 designs and 37 pages of patterns in this 66 page book.Patterns include: motifs, crosses, edgings and bookmarks.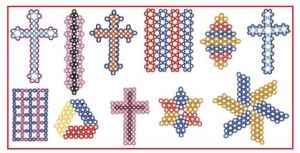 Price:  $25.00  /  FREE shipping to USA Address

Looks like you have entered a product ID () that doesn't exist in the product database. Please check your product ID value again!



---
MORE Fun with Split Ring Tatting
published November 2013 by Karen Bovard, The ShuttleSmith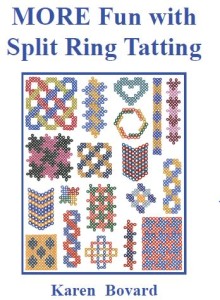 THIS AIN'T YOUR GRANDMOTHER'S TATTING !!!
In MORE Fun with Split Ring Tatting, Karen Bovard (The ShuttleSmith) has created a totally new look and approach to tatting using Split Ring Tatting technique.
The designs are modern and focus on several themes: Use of multiple colors in one piece, Celtic inspired designs; and Lace-Tessellation inspired designs (free math lesson included).
An introductory chapter is devoted to understanding how to read/use the Visual Patterns as well as tips for achieving Split Ring Tatting success. The end goal is to have FUN.
An entire chapter and tutorial is included for Needle Tatters: How to create Split Rings & Take-Off Rings using Needle Tatting Technique.
This 63 page book features over 400 images: full-color photographs of finished pieces, working-path diagrams, additional design & color ideas, and over 45 visual (diagrammatic, color-coded) patterns that give even the novice tatter explicit information to execute these unique designs.
Patterns can be easily manipulated to create bookmarks, edgings, pouches, etc in various sizes and shapes.
Price: $25.00 / FREE shipping to USA Address
---
Buy both books (Fun with Split Ring Tatting & MORE Fun with Split Ring Tatting) — $40.00 (Save $10) (free shipping to US addresses)
---
NEW BOOKS
Patchwork Quilt Blocks in  Split Ring Tatting
published July 2015 by Karen Bovard, The ShuttleSmith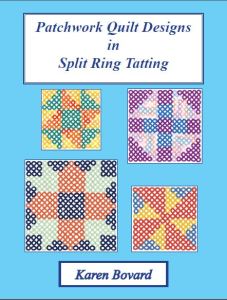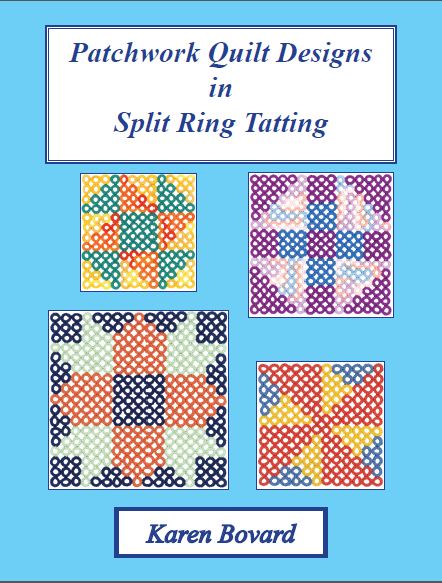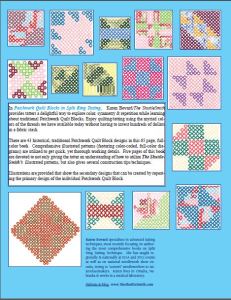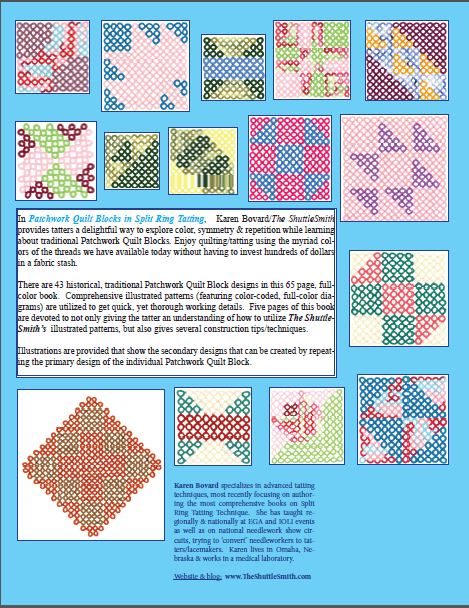 Price: $25.00 / FREE shipping to USA Address
---
Quilt-Inspired Designs in Split Ring Tatting
published July 2015 by Karen Bovard, The ShuttleSmith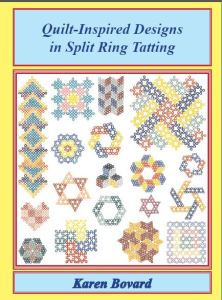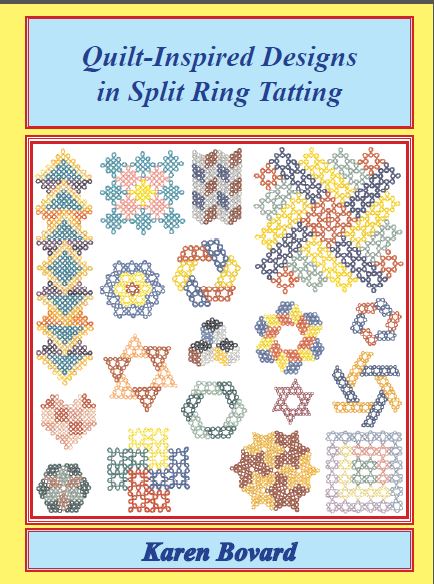 Price: $25.00 / FREE shipping to USA Address
---
Block Alphabets in Split Ring Tatting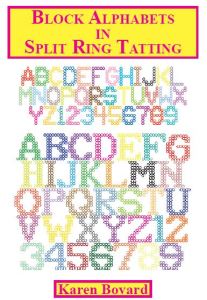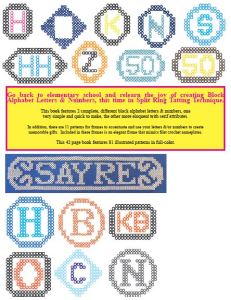 published June 2015 by Karen Bovard, The ShuttleSmith
Price: $20.00 / FREE shipping to USA Address
---
International orders
Shipping to Canada is: $3.50
Shipping elsewhere is: $8.00